For Kadlece the championship ended. Ankle injuries will be treated for three weeks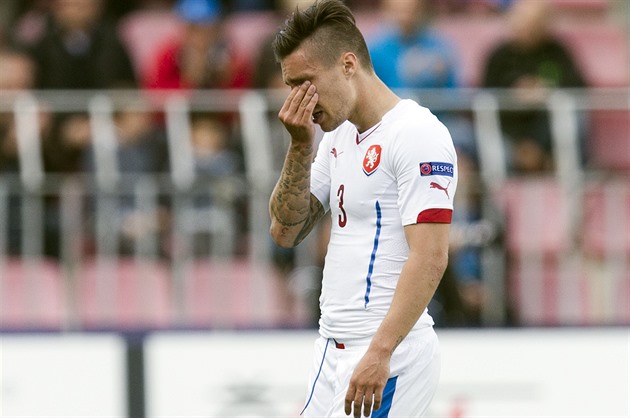 "There is also the possibility in the game not to end the tournament, but we will try to prepare him for further matches. Chance is fifty to fifty, "said Alexandr Kučera, who takes care of the representatives, on Sunday afternoon before departing for detailed examination.
Magnetic resonance revealed a broken ligament in the ankle, which for Kadlec means the end of the tournament . "The vase is a bit torn, healing time is three to four weeks," Kučera said after returning from the hospital.
So much for the Kadlec home championship.First, suffered from the stands as the opening match against Denmark (1: 2) for three year old red card could not play.
On Saturday against Serbia was the best player, he helped to two goals up another hundred percent chance alone hit the crossbar, but 25 minutes without any contact with an opponent badly and had to slap some cuffs substitute.
When he left the pitch, thanked the fans and had tears in his eyes. In the evening he went to the X-ray, which did not show any fracture. But as the ankle bruising was serious, it showed a magnetic resonance examination.
Kadlec loses Tuesday's duel against Germany, which will decide whether Czech qualify for the semifinals or end up in the group.If the Czechs were to advance, they would watch their fights as well.
Kadlec before marodil with a fatigue fracture. "But the current injury is not related to it. On the X-ray it was possible to see that the previous injury is in order, "said Kučera.
Sunday's post-training training in Uhříněves next to Kadlec was missed by Captain Jakub Brabec and two extreme midfielder Jiří Skalák and Martin Frydek. They all treated small wounds and stayed in a hotel in Benice. Stopera Brabce is struggling with kicked calf muscle, Frýdek's back pain, and Skalák's recently operated knee. But all three of them would have to fight against the Germans.
Several fans arrived in Uhrinevsky's beautiful brass band, hung over the Czech flag behind the high net gates.After the training, the footballers signed them, the biggest interest was for Pavel Kadeřábek.
The team, which played a major part of the game against Serbs, was only forty minutes on the pitch. Exit, elongation, a couple of sprinters and go to nearby Benic. The others completed an hour and a half long preparation.